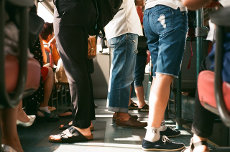 Many people are of the opinion that a train is a fairly convenient mode of public transport, whereas an intercity bus is targeted at those travellers which are willing to sacrifice comfort in order to save some money. A European train company, however, is about to challenge this view by introducing a fourth class on its connections from Paris to Brussels. The new trains, which are called Izy and are operated by the Belgian railway company Thalys, are meant to appeal to customers of low-budget intercity buses such as megabus. While the train allows these travellers to save time on the road, compromises have to be made when it comes to comfort.
Travellers taking one of the Izy trains have the choice of four types of tickets. The Standard XL fare basically equals a first class ride. Not only does it include a comfy seat but also power sockets for every customer. Standard XL tickets can be bought from £23. The Standard fare can be booked from £15 and includes a standard seat but no guaranteed power socket. Travellers booking a third class ticket, which can be bought from £12, will have to sit down on one of the train's 25 fold-down seats. The train company implicitly states that this option offers limited comfort and that it is not suitable for the elderly, pregnant women, children or travellers with reduced mobility. The fourth class goes one step further: Booking a ticket starting at £8 guarantees for a train ride but not for a seat. Customers are asked to spend the 2.5 hour trip standing in an unused buffet car with about 10 more travellers. However, there's still hope for fourth class train travellers: A seat might not be used, in which case holders of fourth class tickets are allowed to claim it.
While many train travellers or commuters in the UK are accustomed to not get a seat or other inconveniences such as rail strikes more or less obscure explanations for train delays, high-speed continental trains are usually characterised by their high level of comfort. The Izy train can thus be seen as a linkage between railway transportation and intercity buses, with strict luggage limitations bearing resemblance to the policies of budget airlines. Travellers can save about 1.5 hours when taking the Izy from Paris to Brussels instead of making use of the coach services by operators such as Eurolines Suisse, OUIBUS or FlixBus. With regards to money, the new fourth class is on par with the cheapest bus ticket, which is provided by megabus. Opting for the bus, however, customers are also guaranteed a seat and can benefit from free WiFi and plenty of power sockets, making the coach ultimately the more comfortable option. So, if you have 90 minutes to spare, we recommend you take the bus, lean back and enjoy entertaining and a generous luggage allowance.
Share this post: