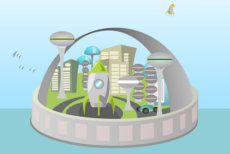 Technological Innovations seem to know no bound, and popular staples of science fiction, such as self-driving buses and flying cars might make a stop in reality sooner than we think. The transport sector is constantly evolving with innovations, such as electric buses, which are becoming more and more prevalent in local bus lines around the world. The first self-driving or "robot" buses are currently on the road in some cities with plans of mass production on the horizon, while the aviation company Airbus has already developed a prototype called CityAirBus with a successfully tested propulsion system. The company is planning to undergo remotely piloted tests by the end of next year.
Flying Cars, Drones and Planes
Innovation is the keyword of the future. Within a very short timeframe, flying cars could transition from the fictional world to our everyday lives. Tom Enders, CEO of Airbus, announced a few months ago that an Air Mobility Division was created last year to provide a single-seat prototype.
The model of the CityAirbus features a four-rotor design with eight battery powered motors and is capable of speeds up to 75 miles per hour. In the beginning, the vehicles will be manually operated by certified pilots to help keep the public at ease. However, the goal is to eventually move towards full automation. Airbus is hoping to commence passenger service vehicles in cities as early as 2023 with government certification and an approved means of air traffic management.
Airbus expects this sector to hold a great deal of potential, believing that such an innovation could solve all the traffic problems in cities around the world once and for all. The company is currently working on three specific projects: Vahana, CityAirbus and Skyways Airbus. Vahana is the first flying car prototype adapted as a transport vehicle. CityAirbus is an electric airplane that allows the transport of passengers in a totally autonomous vehicle, without a driver. Finally, the Airbus Skyways is an aircraft designed to transport goods.
All of these projects have one common goal: to find an alternative to the increasingly chaotic rat race on urban streets.
Paris is Already Testing Robot Buses



The French capital has already joined the revolution of urban mobility by testing some of the first autonomous buses. At the moment, this type of vehicle can only travel to districts located in the outskirts of the city. Its main function is to connect users with the stations of the RER railway network, which allows passengers to reach the city centre. These robot buses are capable of carrying up to ten people, and have a system of laser cameras in order to identify possible obstacles along the way. At the moment, they are travelling along a protected road on a bridge connecting two stations at Jean-Louis Missika.
Share this post: