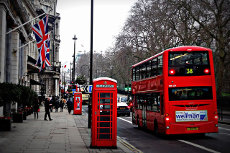 The annual Christmas rail shutdown will leave many Brits clueless about how to get from A to B over the holidays. This year, however, might result in even more severe trouble for travellers: in addition to the lack of rail service on Christmas Day, a potential rail strike from Southern Railway, airport strikes and around two hundred rail projects are expected to cause unprecedented disruptions. These include closures at five major London train stations, namely Paddington, Liverpool Street, Charing Cross, Waterloo and Cannon Street. This will also lead to reduced services on airport connections, such as the Stansted Express, Gatwick Express and Heathrow Express. However, there's a silver lining for holiday travellers as the UK's coach companies spare no efforts to keep Britain moving for Christmas.
Compare Ticket Prices and Save Money
Because of limited service and higher demand, coach ticket prices might be slightly more expensive this Christmas. However, by comparing the offers of more than one company, you can make sure to get to your Christmas destination for the least amount of money. The table below features ten example bus routes on which you can save up to 70 per cent when you compare offers.
Save up to 70 per cent by comparing coach services on Christmas Day

Connection
Cheapest Ticket
Most Expensive Ticket
Savings
Birmingham-Manchester
£14.90
£43.80
65%
Cardiff-London
£20
£42
52%
Manchester-London
£22
£73
70%
London-Liverpool
£30
£51
41%
Newcastle-Sheffield
£17
£38
55%
Leeds-Leicester
£17
£30
43%
Swansea-Bristol
£11
£34.50
68%
Swindon-London
£22
£28
21%
Oxford-London
£16
£30
47%
Coventry-London
£20
£41
51%
Ticket prices checked on 13 December for connections on Christmas Day
National Express will offer 60,000 extra seats between 19 December and 2 January, which is 50 per cent more than last year. All in all, the coach company will be serving 76 stops in 64 cities and airports. Eleven new destinations are served on Christmas Day, including Brighton, Chelmsford and Colchester. December is the coach company's busiest month with an increase of 10 per cent in passenger numbers.
The Scottish intercity bus providers megabus and Citylink also operate holiday services offering a total of 1,500 seats. 27 cities are served on Christmas Day with the timetable only showing slight alterations for the other holidays. What's new this year is that there is a Citylink 900X service connecting Glasgow and Edinburgh on Christmas Day. For New Year's Eve party-goers can use special megabus services to get back home from celebrations in London and Edinburgh.
Overview over megabus services on Christmas Day and New Year's Eve
Cities served on Christmas Day
London, Glasgow, Edinburgh, Dundee, Aberdeen, Cardiff, Swansea, Birmingham, Sheffield, Manchester, Liverpool, Leeds, York, Newcastle, Sunderland, Middlesbrough, Coventry, Leicester, Loughborough, Nottingham, Derby, Newport, Bristol, Swindon, Milton Keynes, Rugby, Cwmbran

Available New Year's Eve links from London
Swindon, Bristol, Newport, Cardiff, Cwmbran, Norwich, Havant, Portsmouth, Southampton (City Centre and Airport Parkway), Bournemouth, Poole, Milton Keynes, Rugby, Coventry, Birmingham, Manchester, Leicester, Loughborough, Nottingham, Sheffield, Leeds, Middlesbrough, Sunderland, Newcastle

Available Hogmanay links from Edinburgh
Newcastle, Leeds, Sheffield, London
Share this post: