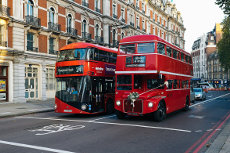 April 2016 will mark the 400th anniversary of the death of William Shakespeare, which is why numerous festivals and events all across the UK will be staged in honour of Britain's most popular author. One of the most eagerly expected ones will be hosted by none less than actor Sir Ian McKellen, who has started off his career playing Shakespeare's characters on stage and later went on to portraying them on the big screen.
As part of the BFI Presents Shakespeare on Screen season, McKellen will leave the stage and hop on a London tour bus. The famous actor, who is most commonly known for portraying Gandalf in "The Lord of the Rings", will serve as a tour guide on a bus ride through London. On this exceptional bus line passengers will pass famous settings which featured in the 1995 Richard Loncraine film "Richard III" starring Sir Ian as the famous Shakespearean villain. Amongst the numerous sights will be Tate Modern, Battersea Power Station and St Pancras Station, which also featured in some of the Harry Potter movies.
It was Sir Ian himself, who came up with the idea for the unusual tour of the British capital: "I have always thought it might be fun to take a bus tour around the sites of London, where you could watch snippets of the film." When and how tickets for the BFI bus tour will go on sale is not yet known, however the exclusive tickets will be highly coveted and waiting lists are expected to be long. For those unlucky ones without a ticket, a trip to London between April and May is still highly recommended since the BFI will hosts a vast amount of screenings of Shakespeare film, ranging from Lawrence Olivier's early adaptions over Zeffirelli's well-known "Romeo and Juliet" to Akira Kurosawa Japanese reimagings of Macbeth and King Lear. In addition, you can also venture out on your own and take a closer look at Shakespearean film sets – they are certainly worth a visit even without the company of Sir Ian.
Cheap Bus Connections to London


Liverpool ↔ London, National Express, starting from £5


Swansea ↔ London, megabus, starting from £5.45


Bristol ↔ London, National Express, starting from £5

Share this post: