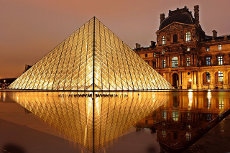 There's only a few more days to go until Valentine's Day. If you still don't have a present then there's no need to panic and to resort to the usual gifts, which are flowers and chocolates. In case you want to spend some quality time with your significant other, we recommend surprising him or her with a spontaneous weekend getaway. After all, one of the most romantic places on earth is just a few hours away: Paris!
Taking a coach to Paris
You can get from London to Paris either by coach or by Eurostar, both of which can be found with the CheckMyBus search. Naturally, the Eurostar is the faster option but it's also considerably more expensive. If you'd like to save a few pounds, then we recommend looking for a bus as an alternative. The route London – Paris is currently operated by Eurolines, FlixBus and OUIBUS and ticket prices start at £17. If you don't live in London, you can still make use of the connection. Eurolines offers an add-on in cooperation with National Express: for £15pp you can add any journey to London from anywhere in the UK when booking your trip to Paris.

Paris: The City of Love
Walking along the River Seine, discovering the little boutiques of the Rive Gauche or having dinner high up the Eiffel Tower – basically anything you can do in Paris is utterly romantic. We recommend starting your day with a nice breakfast before going for a stroll along the river. For instance, you can walk all the way from Notre Dame cathedral to the Eiffel Tower.
Afterwards a little bit of shopping might be a good idea. If you're a book lover, you should make sure to visit the well-known bookstore Shakespeare and Company on the Left Bank. The shop and its owner Sylvia Beach became famous for supporting artists such as James Joyce and for being a place to meet for many then-aspiring writers including the likes of Ernest Hemingway and Ezra Pound.
If you're hungry, you don't have to break the bank. After all, romance can be found everywhere in Paris – not just in Michelin star restaurants. We recommend buying some high-quality cheese, grapes, a bit of baguette and a bottle of champagne. Then you should set up a little improv picnic in front of the Sacré-Cœur Basilica, from where you will have an incredible view of the whole city. Make sure to go there just before sundown to catch Paris during the golden hour.
Share this post: