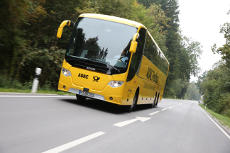 The German Federal Office for Goods Transport has conducted a survey, in which the young intercity bus sector in Germany has been analysed in great detail. The intercity bus industry in Germany was liberalised in early 2013 and has achieved remarkable successes since then. Roughly 240 bus routes and more than 7,000 departures per week are currently available to the German public – as well as – to foreign travellers. However, the study shows that the expansion of the national bus network is likely to reach its final stage within the next one or two years. Instead of opening new routes, the operators of intercity buses are already focusing on the introduction of nighttime and express connections on existing routes. Moreover, cross-border connections become increasingly attractive, prompting bus companies to launch more and more links with international metropolises such as Amsterdam, Budapest or Prague. Especially the recently merged intercity bus companies, MeinFernbus and FlixBus, are working towards the establishment of a joint European bus network.
A central aspect of the study was to sketch a picture of the typical intercity bus passenger, who is generally under 35 years-old and appreciates low fares. The study also revealed that in most cases this passenger is female and travels alone. Apart from being popular with students – one of the major target groups of intercity bus companies – the new German travelling alternative also appeals to senior citizens. However, not every bus company is equally popular with elderly passengers. For instance, it can be monitored that the startup company MeinFernbus registers only 5 percent of passengers over the age of 65, while the ADAC Postbus records 18 percent of senior customers, i.e. more than three times more. This observation can be assigned to the ADAC Postbus' high profile amongst the elderly, as the bus company is operated by two of Germany's most traditional branded companies, the automobile club, named ADAC and the national mail service, called Deutsche Post. A survey conducted by MeinFernbus sheds light on the most common reasons for journeys on intercity buses: About 63 percent of passengers use the intercity bus for family visits. 23 percent choose other regions of touristic interest, such as the German Baltic coast, as their destination. Only 7 percent each consists of commuters and business passengers. If it comes to choosing between the services of several different bus companies, customers are most likely to go for the cheapest ticket. Only rarely passengers exhibit signs of brand loyalty, which makes them choose the same intercity bus company for every journey.
Since its establishment two years ago, the German intercity bus market has been dominated by a severe competitive struggle between the individual bus operators, which was mainly focused on cheap pricing. For the last months, however, signs of a first period of consolidation have been noticeable: In November 2014 the bus company city2city, a subsidiary of the UK's National Express, declared its withdrawal from the German intercity bus market. In order not to suffer the same fate and instead to operate in the black, numerous German intercity bus companies are currently attempting to optimise their business strategies. Whereas MeinFernbus and FlixBus decided to merge in early 2015 aiming at a joint international expansion, the IC Bus, which is being operated by the German national rail service Deutsche Bahn, focuses on less bus routes with more frequent departures. The overall objective is to enhance the percentage of seats sold per bus – that is why German bus companies are adapting to current demand: In general, they offer less departures on weekdays and more on weekends. This, however, results in a massive problem for the young German intercity bus sector. The bus stops throughout the country lack the space necessary for the buses as well as the level of comfort, which passengers wish for. Further obstacles to a successful and quick development of Germany's intercity bus industry are considered to be the shortage of qualified personnel and the state's requirements regarding accessibility for handicapped passengers. Despite all these impediments, the German intercity bus industry is well on its' way and satisfies a demand for cheap national and international journeys. This is mirrored in the ongoing success of startups such as MeinFernbus or FlixBus as well as traditional enterprises such as the Deutsche Bahn's IC Bus and ADAC Postbus.
Share this post: