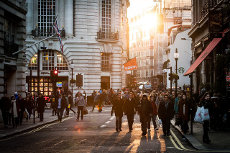 Every year, on 22 September about 1,500 cities in 40 countries celebrate World Car Free Day. In order to cut down pollution and to reduce traffic and noise, cars are either banned from large parts of the city centres or other activities and competitions are offered which are meant to encourage the population to go without their car for a day. Although the event is only on for a few hours or a whole day, supporters of the scheme argue that it gives people a chance to see what their city would look like without extreme traffic and that this could ultimately result in more and more people ditching their car in favour of more sustainable modes of transport, such as a bus, train, underground or a bicycle.
Going car-free all over the world
Many cities applaud World Car Free Day and come up with innovative ways on promoting sustainable transport. Brussels, for instance, has launched "Mobility Week", during which the city's inhabitants are taught more about how to get around town without causing extreme pollution. Montreal and Washington DC get their inhabitants enthusiastic about World Car Free Day by offering prizes for everyone who gets to work via public transport, bicycle or carpooling. Mexico City, one of the world's mega-metropolises, even closes 35 miles of urban streets to cars every Sunday.
Paris: Parade Sans Moteur
Paris goes one step further by teaming an awareness for air pollution with initiatives on how to reduce waste. On Sunday, 25 September, private cars will be banned from about half of the city centre. Last year, studies showed that sound levels were cut in half and nitrogen dioxide levels fell by up to 40 per cent in some parts of the French capital. To make use of the car-free streets, Paris stages the "Parade Sans Moteur", a big parade in which everyone walking, cycling, using wheelchairs or skateboards can take part. The parade goes hand in hand with a large picnic along the River Seine, which focuses on Zero Waste: participants are encouraged to give up coffee-to-go-cups and ready-made salads in favour of homemade food brought along in reusable containers.
Going car-free in the UK?
In contrast to all these cities, the UK lags far behind when it comes to going car-free. London does not participate in World Car Free Day, although last year's YouGov poll shows that 63 per cent of the Londoners are actually in favour of the scheme. 58 per cent could even imagine making a car-free London a monthly event. However, there's talks about improving air quality and reducing pollution. London's mayor Sadiq Khan, for instance, is thinking about pedestrianising Oxford Street.
One UK city, which is taking part in World Car Free Day, is Cardiff. However, the Welsh capital's efforts are criticised by many people because the city only closes off a single road – Park Place – to car traffic. Nevertheless, it's a step in the right direction and maybe London and other UK cities will step up to the challenge one day as well.
Share this post: