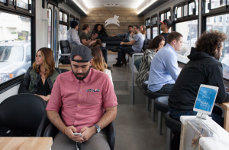 Many travellers still associate bus journeys with past school trips and ill-equipped coaches. By offering free WiFi, diverse entertainment possibilities and inexpensive snacks, providers of intercity buses have managed to improve the reputation of bus journeys significantly in recent years. Nevertheless, an American bus company is currently proving that there is no limit when it comes to the comfort and convenience of bus journeys.
The light blue buses of the local transport company Leap have been touring the streets of San Francisco since early March and offer commuters a high comfort alternative to regular public transport. Passengers willing to pay $6 for a single fare – about three times the price of a ticket for the city bus – can enjoy the many conveniences offered by Leap. After having purchased a ticket via the company's app, the passenger is requested to scan the provided QR code on boarding the bus. If Bluetooth is enabled on the customer's phone an automatic check-in-process allows him to get on the bus without even producing an e-ticket. Due to the smart phone connection, customers benefit from further advantages: Instead of relying on timetables, Leap uses a tracking system that allows the customer to see the buses' current position and to check for available seats. Regarding San Francisco's unpredictable rush hour traffic, this amenity can safe precious time during the daily commute.
Kyle Kirchhoff, Leap's founder and CEO, describes his buses as a modern hybrid of work desk, living room and café. Instead of providing the usual rows of seats, all of the company's buses have been furnished with comfortable and spacious lounge areas as well as leather bar stools facing the windows. Each of the window seats is also equipped with a desk and USB ports. This enables commuters to use time effectively on their daily journey to work. In case of a shortage of time in the morning, the customer can even have breakfast on the bus. Via the accompanying app Leap riders have the possibility to order local and organic snacks, freshly squeezed juices and iced coffee, which is instantly hand-delivered to the passenger's seat by a member of staff.
Whether the Leap concept will be crowned with long-lasting success remains to be seen. The project's opponents fear that the high comfort buses might result in a two-class urban transport system. Its supporters, however, claim that the additional coaches could also lead to a relief of regular city buses and hence benefit all of San Francisco's citizens. Although Leap is focused on local public transport, it can also serve as a good example for the intercity bus. Its modern and innovative service concepts could be adapted to long distance bus journeys and lead to a further improvement of the level of comfort.
Share this post: