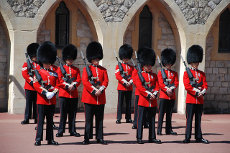 One could say that last week was one of the most British weeks ever: Not only was it the Queen's 90th birthday but also the 400th anniversary of the death of William Shakespeare, England's national poet. (It can't be coincidence that this important day correlated with the English National Holiday, St. George's Day.) In order to celebrate Englishness, the editors at CheckMyBus have compiled the Ultimate English Coach Tour, which will allow you to experience all facets of English culture, from royalty over music to the bard himself.
Discover the most "English" tourist spots by coach for less than £40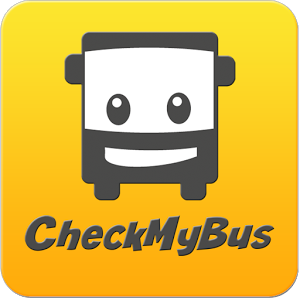 Our ultimate English Coach Tour starts and ends in London. This means that no matter where you live in the world, you can always find many available cross-border bus travel options to reach the UK's capital. The German coach company FlixBus has only recently started many inexpensive connections to London from cities in Germany and France. A ticket for a bus trip from Paris to London, for instance, can be booked for £9. Once you hopped off your coach in London, you can start the ultimate English Coach Tour right away, which will take you to Oxford, Stratford-upon-Avon and Liverpool. If you manage to get the cheapest coach tickets, then the whole tour will cost you less than £40.
As English as It Gets: The Great English Coach Tour
London (Buckingham Palace) – Oxford (University of Oxford) – Stratford-upon-Avon (Shakespeare's Birthplace) – Liverpool (Home of the Beatles) – London (Wembley Stadium)
Stop 1: Royal England – Start your Tour at Buckingham Palace
If you want to discover English culture, it's best to start in the country's capital. Located in the heart of London is Buckingham Palace, the residence of the Queen. While most visitors are happy witnessing the Changing of the Guard, which takes place daily from April until June at 11:30, you should also see the impressive inside of Buckingham Palace. The State Rooms can be visited from the end of July until the beginning of October and if you're lucky one of the special exhibitions is on. This summer, for instance, you have the unique chance to take a look at some of the most distinctive dresses worn by the Queen during her long reign.
CheckMyBus Tip:
If the queue in front of Buckingham Palace is too long, you can visit the lesser-known Kensington Palace instead, which is only a short walk away. This is the residence of William and Kate, the Duke and Duchess of Cambridge. It is open to the public from 1 March to 31 October 2016.

London ↔ Oxford, megabus, starting from £1

Stop 2: Academic England – Oxford, the Alma Mater of Great Minds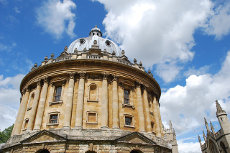 There's reason to believe that teaching at Oxford started as early as 1096, making the University of Oxford the oldest uni in the English-speaking world. Impressive architecture and stunning buildings such as the Bodleian Library line the streets on which numerous famous and important people walked. Here's only a few of Oxford University's well-known alumni: former Prime Minister Tony Blair, the inventor of the World Wide Web Tim Berners-Lee, scientist Stephen Hawing, writers Oscar Wilde and Percy Bysshe Shelley, actor Hugh Grant, Monty Python members Michael Palin and Terry Jones as well as Mr. Bean himself, Rowan Atkinson.
CheckMyBus Tip:
If Oxford is not enough for you, then you can take a detour to the UK's second most important university city, Cambridge. The coach company megabus offers trips from Oxford to Cambridge starting from £1.

Oxford ↔ Stratford-upon-Avon, National Express, starting from £10

Stop 3: Shakespeare's England – The Bard's Birthplace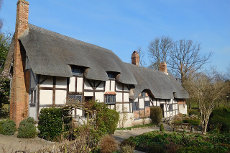 This year marks the 400th anniversary of the death of England's national poet, William Shakespeare. While numerous events and special performances take place all over the UK, the most exciting ones can be witnessed in Shakespeare's hometown Stratford-upon-Avon. You have the possibility to wander the streets of Stratford and to visits the bard's birthplace as well as New Place, the impressive home he acquired after retired from the stage. The Royal Shakespeare Company (RSC), which features famous Shakespearian actors such as Ian McKellen, Judi Dench and David Tennant, owns a theatre in Stratford-upon-Avon, so make sure to catch a play there!
CheckMyBus Tip:
If you want to brush up your Shakespeare before arriving in Stratford-upon-Avon, you should use your stay in London for a trip to the reconstruction of Shakespeare's Globe Theatre. Tickets for "groundlings", i. e. standing tickets right in front of the stage, can be booked for £5.

Stratford-upon-Avon ↔ Liverpool, National Express, starting from £20

Stop 4: The Home of Britain's Most Famous Boyband – The Beatles' Liverpool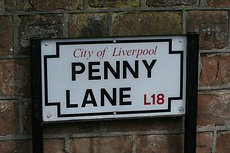 Although the UK can boast itself of numerous famous bands such as the Rolling Stones, Radiohead, Oasis and the Spice Girls, the most characteristically "British" one will probably always be the Beatles. On any England-themed trip, visiting Liverpool is a must. You can take part in the Beatles Walking Tour and visit the birthplaces of some of the band's members or St. Peter's Church Hall, where John Lennon first met Paul McCartney. In the evening, make sure to take a trip to Cavern Club, where the Beatles used to perform on a regular basis in the early stages of their career.
CheckMyBus Tip:
After you've done your research on the Beatles, you should also dive into Liverpool's current music scene. The perfect place to do this is Matthew Street, where you can find numerous little pubs and bars offering live music.

Liverpool ↔ London, megabus, starting from £3

Stop 5: Football's Coming Home – All Roads Lead to Wembley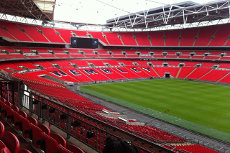 There is hardly anything more prototypically British than football and there's hardly any venue as impressive as Wembley stadium. The arena offers space for about 90,000 spectators and is not only used for big football competitions such as the Champions League but also for rugby matches or concerts. When you get back from your English Coach Tour than the last thing on your agenda should be getting a ticket for a football match at Wembley, the home of football.
CheckMyBus Tip:
Should your timing be off and there's no football match on, you should still visit Wembley Stadium for a guided tour. Video footage will allow you to relive memorable Wembley moments such as England's 1966 World Cup victory.
Share this post: