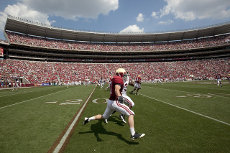 It's that time of the year again when we can forget about football for a bit and concentrate on American Football instead: the NFL is coming back to London. Ever since 2007, at least one regular-season game has been played in London and by the end of 2016, 23 out of the 32 NFL teams will have made appearances in the British capital.

NFL Fans outside the US
Hosting NFL matches in Europe has significantly increased the sport's international fame. In the UK, about 75 per cent more people watch the Super Bowl as compared to 10 years ago. Viewership of regular Sunday matches has also doubled. Reason enough for the NFL to continue their International Series: The deal for a minimum of one annual game in London was recently extended to 2020. But American Football is not the only sport to cater for an audience outside the US: After NFL and MBA, Major League Baseball might be the third typically American sport making its way over the Atlantic.
NFL International Series 2016 in London: An Overview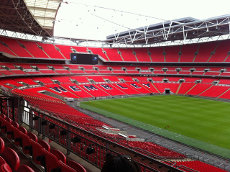 This year, there will be three NFL games hosted in London. Apart from Wembley, where two of the games will be played, Twickenham Stadium will act as a second venue and will host an NFL game for the first time ever.
The first game is played on Sunday, 2 October, and is kind of a homecoming as it sees the Jacksonville Jaguars face the Indianapolis Colts. While it's the Colts' first appearance in London, the Jaguars are playing their fourth consecutive game in the British capital. In order to celebrate this, Regent Street will be closed to traffic on 1 October between 12 noon and 6 pm and will instead see a big NFL celebration. American Football stars are likely to show up and many stores will offer select deals for fans. Also make sure to head to Gordon Ramsay's Heddon Street Kitchen, where the chef will serve NFL-inspired cocktails.
On Sunday, 23 October, Twickenham Stadium in the West of London will host its very first NFL game. The St Louis Rams, who make their first appearance in London since 2012, will host the New York Giants.
The third NFL International Series game in London will be played on 30 October. The Cincinnati Bengals will host the Washington Redskins at Wembley. The match will mark the London premiere for both teams.
How do I get to London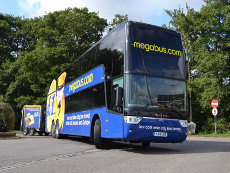 About 90 per cent of the fans travelling to London for an NFL game are actually coming from the UK. As London is well integrated into the networks of both National Express and megabus, it is no problem to get to either Wembley or Twickenham by coach. Even if you couldn't get a ticket for one of the matches, it will be worth heading to the capital for the Regent Street NFL extravaganza only. Coach trips to London start at £1 (excluding a 50p booking fee) at megabus. These tickets are available on many connections, such as Manchester-London, Leeds-London or Birmingham-London.
Most buses arrive at Victoria Coach Station. To get to Wembley, all you need to do is to take either Circle or District Line to Westminster. Then take a Jubilee Line train directly to Wembley Park.
Share this post: