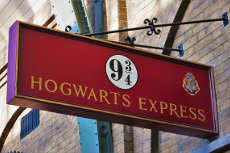 Although the actual book series is finished, the Harry Potter fever has not subsided. With ever new franchises, spin-offs and attractions, the wizarding world created by Joanne K. Rowling is as present as ever and still fascinates millions of fans worldwide. If you happen to be a Potterhead from the UK, then you're in luck: The country offers numerous sights related to both books and films that are just waiting to be explored.
Hop on board and discover the world of Harry Potter!
Us muggles here at CheckMyBus have created the ultimate Harry Potter tour across the UK! We also tell you how to get to all of these places without having to break into Gringotts or selling your last dragon egg!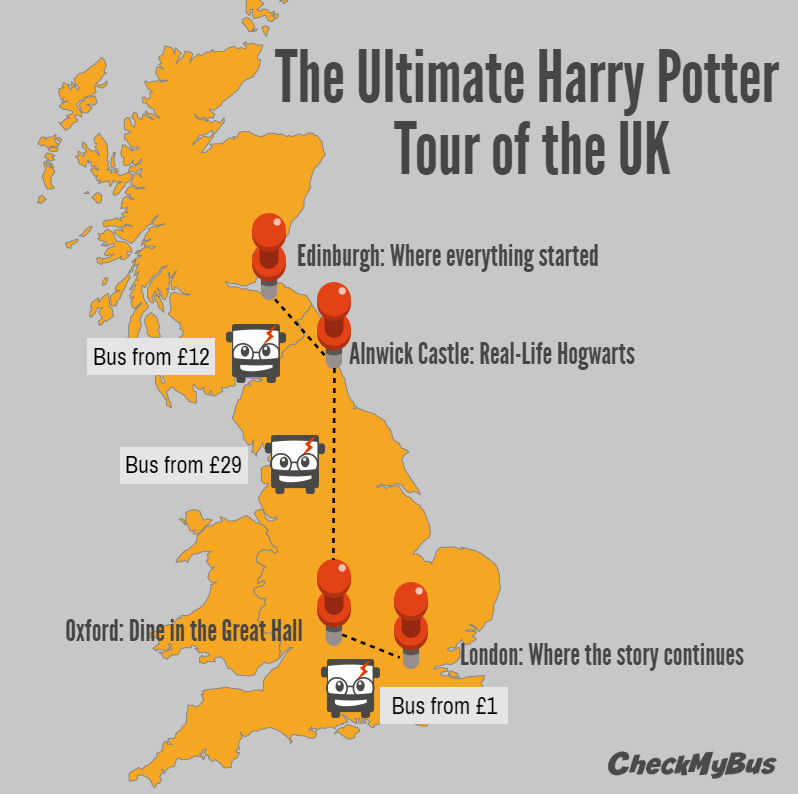 Stop 1: Edinburgh
Although book Harry was born in the fictional town of Godric's Hollow, the myth surrounding him originates in the actual capital city of Scotland, Edinburgh. The city's medieval architecture, its narrow alleys and its overall charm are said to have inspired J. K. Rowling to write the Harry Potter series. The cafés Spoon (then called Nicholson's) and Elephant House were the places where Rowling would go to work on her novels. If you want to explore the darker side of the Harry Potter universe, make your way to Greyfriar's Kirkyard. Not only did the ancient graveyard serve as inspiration for the graveyard scene in Goblet of Fire, it also features the grave of the real-life Tom Riddle, who was a 19th century aristocrat. To trace Rowling's career from unknown writer to one of the most influential authors in British literary history, you should make your way to the 5 star Balmoral hotel. This is where she wrote the last pages of the very last novel, Harry Potter and the Deathly Hallows.
➠ For your next step on our Harry Potter Tour across the UK, you need to hop on a National Express bus from Edinburgh to Alnwick. The ride will take about two hours with tickets available from £12.
Stop 2: Alnwick Castle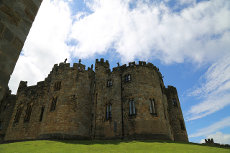 Wait? You haven't received a letter from Hogwarts? – No problem! You can still visit the famous school of witchcraft and wizardry when heading to Alnwick Castle. The castle has existed for about 1,000 years and is one of the UK's oldest still inhabited castles. Although it's the actual home of the Percy family, it is open to the public from April to November. It has served as the set for both indoor and outdoor shots of the Harry Potter films, which is why visiting it truly makes you feel as if you were wandering the grounds of Hogwarts. Obviously, there's also some Harry Potter inspired activities on offer, such as broomstick flying lessons. (Hint: they might come in handy on the last stop of our tour…)
➠ Flying lessons have made you hungry? Then head on to the Great Hall for some nice food (obviously prepared without infringement of house-elf rights). In order to get there, you need to be a tiny bit patient though: Head on the (k)night bus (pun intended) from Alnwick to Oxford!
Stop 3: Oxford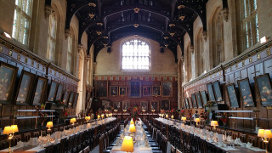 Once you've arrived in Oxford you'll already notice why this city simply has to be part of the Harry Potter experience. It's nicknamed the "city of dreaming spires" and everywhere you look you'll find this feeling of grandeur that is so characteristic of Hogwarts. If you walk the halls of one of the university buildings, it's like making your way to potions class or your defense against the dark arts lesson. Oxford university features prominently in the Harry Potter films, for instance, as setting for scenes at Hogwarts Hospital or – most famously – scenes in the Great Hall. Go to Christ Church College's Dining Hall to find the place where they shot Great Hall footage for the early Potter films (later on a set was used).
➠ Our next and last stop is less than two hours away. Just hop on a bus from Oxford to London. Tickets are available at megabus from £1.
Stop 4: London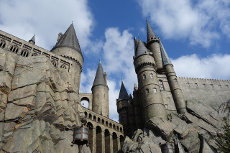 There's no better place to finish your Harry Potter tour of the UK than London. Many streets, buildings and sights will look familiar to you because they were used as sets in the films. The outside of Australia House, for instance, served as the façade of Gringotts bank. The Reptile House at London Zoo is where Harry started to notice his magical powers and his ability to speak parseltongue. One of the more well-known Harry Potter related attractions in London is platform 9 ¾, which you can find at King's Cross station. If you've always dreamed about becoming a Quidditch star, then make your way up to Hampstead Heath on a Saturday morning to participate in London's first official Quidditch team's practice. (After all, you had those flying lessons at Alnwick Castle, right?)
After your walk through the city, it's time for the highlight of our tour: the Warner Bros. Studio Tour London. Make sure to book your ticket in advance to avoid queues and get a direct train from Euston Station, which will get you to the studios in 20 minutes. This is where the real magic happens: You can find thousands upon thousands of props, sets and costumes used for the Harry Potter films. Make sure to visit Dumbledore's office, Diagon Alley and the Potions classroom. The latest attraction is a walk through the Forbidden Forest (make sure to follow the spiders!)
London is our last stop but if you're still not willing to say goodbye to the wizarding world of Harry Potter, then there's one last thing to do: Make sure to get tickets to Harry Potter and the Cursed Child to find out what has become of Harry, Hermione, Ron and all the others. We know, it's not that easy to get your hands on the highly coveted tickets but here's a little piece of advice: Every Friday, the theatre releases 40 tickets for the upcoming week at bargain prices. You might need a few drops Felix Felicis or some other good luck spell but it's worth a try!
Share this post: