Should you be planning a nice weekend getaway for 2017, we recommend steering clear of the obvious choices such as London, Brighton and Bath. Instead you should make sure to visit Hull, this year's UK City of Culture. The city will surprise its visitors with 365 days filled with culture, arts and history and events ranging from exhibitions over tours to concerts.
The UK City of Culture
Hull is only the second city to receive this title, which is awarded to a different British city every four years. The first city to receive the award in 2013 was Derry-Londonderry in Northern Ireland. The award is given to a city which shows that transformation through culture is not only possible but also something to be celebrated.
Hull 2017: The four seasons of Hull
Hull' cultural year is split up into four seasons, which are meant to represent different aspects of the city's history and identity. The year is kicked off with Made In Hull: Between January and March the focus will be on everything that is produced in the city, from art to industry. It will also touch on how Hull's exports have influenced other cities by contributing to larger ideas.
The second season runs from April to June and is called Roots and Routes. In these three months, Hull will celebrate itself as a city of migration and transition – constantly in a state of flux. The focus lies on Hull's multicultural population and the chances and opportunities, in which diversity results.
Hull's third season (July to September) is under the motto Freedom. It is supposed to take a look at the more rebellious parts of the city history tracing Hull's role in the emancipation movement. It will be all about breaking conventions and speaking your mind.
The fourth and final season (October to December) is called Tell the World. It invites the people of Hull as well as the visitors to think about the future, while also taking a look back at Hull 2017 and the transformation that this cultural event has brought with it.
Hull 2017: What's on?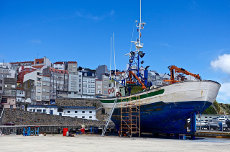 Hull kicks off 2017 with the opening event Made in Hull, for which the whole city centre is basically turned into an outdoor museum. You can walk the streets of Hull and you'll see installations and projections on some of Hull' most famous buildings informing about the history of the city. In Zeebedee's Yard, for instance, there's a sound installation which allows you to experience the passion and excitement of a Hull football match. Alternatively, you can dive into the 90s Yorkshire club scene at the High Street Underpass. The large-scale art event is on daily until 7 January.
If you go to Hull between now and the end of February you should make your way to the Brynmor Jones Library. There you'll find what is described as the "greatest gathering of artistic talent ever seen in Hull". Drawings by Dürer, Degas, Matisse, Rembrandt and many others are part of the Lines of Thought – A British Musuem Touring Exhibition which is coming to Hull in early 2017.
More art can be found in Hull throughout the whole year. One of the highlights will certainly be the unveiling of five of Francis Bacon's Screaming Popes at the Ferens Art Gallers.
The city also celebrates its sons and daughters. For instance, there's be a retrospective of the work of Anthony Mingella, the late Oscar winning director and University of Hull alumnus. His most famous works include The English Patient (1996) and The Talented Mr Ripley (1999).
How to get to Hull
A large number of the Hull 2017 events are free, which is why you don't have to worry too much about expenses. A cheap way to travel to the 2017 UK City of Culture is taking the coach. National Express offers connections from most of the other UK cities and ticket prices frequently start at only a few pounds. The low-cost coach company megabus also operates connections to and from Hull. If you're lucky you might even encounter one of the 20,000 free tickets which megabus is currently giving away for trips between 9 January and 9 February. You can also check for other bus and coach deals.
Cheap coach connections to Hull


Bus from London to Hull, megabus, from £1


Bus from Bradford to Hull, National Express, from £7.50


Bus from Leeds to Hull, megabus, from £1


Bus from Liverpool to Hull, National Express, from £17.50
Share this post: