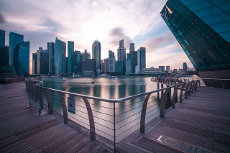 Although the Volvo company is renowned for its extensive experience in the field of autonomous vehicles, the company will be further expanding its scope by shifting towards public transport systems. The company is a world leader in manufacturing electric buses and has sold over 3800 hybrid buses as well as all-electric buses. Collaborating with the Nanyang Technological University (NTU) in the environmentally conscious city of Singapore, Volvo will work on a research and development program for self-driving buses as a part of the city's Land Transport Authority.
Volvo's electric buses already have a track record of improving air quality and decreasing noise levels, however the company wants to go a step further by creating new ways to go about urban planning and stretch the limits of the technology.
"We are seeing fast-growing interest in both autonomous and electric vehicles in cities all over the world. Together with NTU, one of the world's leading universities of technology, we now have the possibility of testing various solutions under realistic conditions in a major city that has high ambitions for its public transport."
Håkan Agnevall, President of Volvo Buses.
Volvo and NTU Collaborate in the Development of Autonomous Electric Buses

Known as a technological hub and advocate of sustainable solutions to modern problems, the city of Singapore was chosen as an ideal environment for the research and development of the buses. NTU is also known to have one of the top technology programs in the world and was selected as a strong partner in investigating, developing and implementing new sustainable energy. Together, NTU and Volvo are hoping that autonomous vehicle technology can change the face of public transportation in terms of safety and sustainability.
The research program has already been launched and will last for two years. Two 7900 electric buses are already being used. One of these models will perform functionality tests and interact with other vehicles in Singapore's CETRAN, a test facility for autonomous vehicles. The other will test the charging systems of its batteries as well as the mobility within the station for parking and self-cleaning.
The NTU estimates that electric vehicles could represent 50% of all vehicles in Singapore by the year 2050.


Share this post: