What am I allowed to take with me on the bus?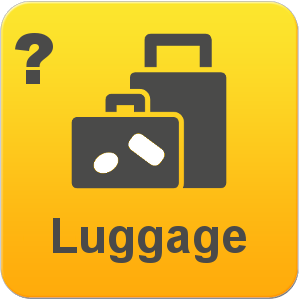 You're looking for additional information regarding the individual coach companies' luggage policies? What are you permitted to take on the coach? Do you want to know if you're allowed to take a bicycle or stroller with you? Will it be possible to bring your dog or an additional piece of luggage – and are there going to be extra-fees?
At CheckMyBus you can find information about what you're allowed to bring – from normal luggage and oversized-luggage and carry-on luggage all the way to bicycles.
Send us your comments and questions – We're here to help!
Luggage on the coach
Travelling by coach is a means of transport which allows you to bring a fairly large quantity of luggage on board for free. However, there are some restrictions, which is also related to the fact that there is a limited amount of space on a coach. Knowing the general rules of regulation about different coach companies will help you avoid unnecessary issues before departure and allows you to enjoy a pleasant and hassle-free coach journey. CheckMyBus will give you some useful tips here.

What Kind of Luggage can I Bring?
If you travel by coach quite regularly, you've probably noticed that one great advantage the intercity bus offers over other modes of transportation is the enormous capacity for luggage that you are allowed to take on board for free. Nevertheless – as holds true for airlines – the maximum luggage size, weight and even what is allowed to be carried in your luggage differs amongst the UK's bus providers. There are also strict rules about special items, such as musical instruments and sports equipment. Hence it's always good to know the basics beforehand in order to avoid hassle. A good idea is to inform the respective bus provider beforehand if you're planning on bringing a surfboard, bicycle or wheelchair – this ensures that there's enough space on the coach and that your luggage is not refused.
Bus Provider
Luggage Policy and Additional Cost
FlixBus

Hand luggage not exceeding H 42cm x W 30cm x D 18cm and 7kg
1 or 2 medium sized suitcases altogether < 30kg
Maximum size for free luggage: H 80cm x W 50cm x D 30cm
3rd piece of luggage (< 15kg): €2, must be booked via customer service
Standardsized bicycle: £7
Oversized luggage (< 30kg and 240cm): £7, must be booked via customer service

megabus

Hand luggage that fits on your lap or under seat
1 large sized suitcase or 2 to 3 bags altogether < 25kg
Maximum size for free luggage: 200cm (width + height + depth)
Outsized items (e.g. adult bike, ski/surf board) are NOT permitted with coach service. Folded and children's bikes can be carried but count towards luggage allowance.

National Express

Hand luggage that fits into overhead racks or under seat (45cm x 35cm x 20cm)
1 or 2 medium sized suitcases/rucksacks < 20kg each
Maximum size for free luggage: H 70cm x W 30cm x D 45cm
Over-sized item with protection package (e.g. folded bike, ski/surf board) counts as one item within 2 free items permit in the hold
Extra item: size < 85cm, up to 3 pieces. One-way: £10/item, £8 pre-booked online, £15 and £12 round trip, or £16 for extra 3 items altogether pre-booked online one-way, £24 round trip, with an e-ticket only
Hand luggage only stations: Birmingham (Great Barr), Chacewater, Plymouth (Marsh Mills), Leicester (Braunstone) and Newquay (Porth Four Turns)

Terravision

Hand luggage that fits into overhead compartments
No limit of number of bags, as long as altogether < 32kg
Maximum size for free luggage: H 81cm x W 119cm x D 119cm
Outsized item with protection package (e.g. folded bike, ski/surf board) is permitted based on current fares
Musical instruments (guitar, violin, cello) are permitted, IF an accordant seat is reserved and the required fare is paid
What Items are Prohibited on the Coach?


In order to assure a safe and enjoyable coach experience, all the bus providers in the UK have come up with precise rules and regulations regarding some items that should not be in your luggage when you board the coach. Which items can be included in your luggage and what will be considered as inappropriate or dangerous and will be refused or removed immediately, however, is generally up to the company.
Items that are forbidden on board include:
Weapons, bombs, drugs, frozen food, pets (except for assistance dogs), gas cylinders, combustible liquids and solids, toxic articles, radioactive materials, raw meat products, dangerous substances that contain bacteria and viruses, acids, alkalis, wet-cell batteries and any kind of items that may pose a threat to passengers' health or are incompatible with the coach. In addition, you are allowed to keep your cigarettes with you, but smoking on board or in the restroom is not permitted.
Tips and Tricks: Where to Store your Luggage in the City
Book online with Stasher, and for just £6 per item, you can safely store all your luggage, insurance included. You can add an additional 24 hours to your order for £5 for each item. Stasher offers storage services in hundreds of locations all over the United Kingdom.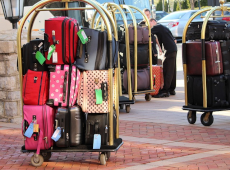 Keep your luggage safely secured
Only £6 per item, including insurance
Travel light and enjoy your trip!
Bookings are made online via Stasher's website. Use the code CHECKMYBUS for 10% off.
Wheel Chair, Baby Car Seat and Pushchair
Foldable wheelchairs, car seats and pushchairs are generally regarded as oversized luggage of special importance. This is why it should not be a problem for you to take them on board. However, we still recommend you show up a bit early at your bus stop and that you give the coach company some notice. For instance, you can send them an e-mail with your exact travel details and the item you'd like to take on board. This is also how you can ensure that there's enough space on the bus.
If you are a disabled passenger and want to remain seated in your wheelchair during the journey, we recommend you take a look at our guide on accessibility on the coach to get detailed information on coach journeys for disabled passengers.
Bus Provider
Policy regarding Wheel Chair, Baby Car Seat and Pushchair
FlixBus

Non-electronic wheelchairs are transported for free, but need to be booked via customer service at least 36 hours prior to departure
Pushchairs counts as bulky luggage and needs to be booked via customer service at least 48 hours prior to departure

megabus UK

Wheelchairs, scooter or similar assistive devices can be stored in the hold
For passengers who need their wheelchairs, scooters or similar assistive devices on board: call +44 (0) 141 352 4444 prior to making a purchase
Reservation for wheelchair is should be made 36h before departure
Full refund is available in case of dearth of capacity
Foldable pushchairs are permitted.

National Express

Manual wheelchair < 20kg, Pre-booking is required
Powered wheelchair by dry cell or gel-type batteries only. Must be arranged prior to booking and 36h before departure
Baby car seat is allowed. Make sure your child is included on your ticket booking.
Booster seats for children between 4 and 11 or up to 150cm tall are provided on board.
Foldable pushchair can be carried free of charge.

Terravision

Foldable wheelchair or similar assistive devices are transported free of charge
Child safety seat is permitted on board for parents/guardians travelling with children under two
What Happens if I Lose my Luggage?


Although as a passenger it is your obligation to keep an eye on your personal belongings, everyone can get a bit distracted from time to time. If you happen to discover that you lost an item or your luggage on the bus or at the station, you can use the customer service hotline and/or e-mail of the coach company. Please have your ticket number at hand when calling. You can also go to the pick-up or drop-off station offices or info desks to ask about any lost luggage.
It is highly recommendable for all the passengers to have their luggage labelled with their personal contact information.
National Express:
If you have lost an item of luggage travelling on coach services of National Express, you can call the customer hotline under 03717 818181 or 0044 3717 818181 from overseas.
megabus UK:
megabus UK staff should instantly be notified of any lost pieces of luggage. For insured property of any kind, megabus UK is only liable up to £500. Keep in mind that loss of valuable things, such as money, jewellery, legal documents etc. are not held liable by megabus UK. You have to keep them by your side and be cautious on your journey.
Terravision:
If you have lost your luggage, then the company might send it to you via mail, however a small administration fee will be charged. If the luggage is not labelled with the information of the passengers, such as name and phone number, it will be disposed of within 1 month. Please be advised that all the found luggage will be examined and will be disposed of within 48 hours if any hazardous substance is found inside. Passengers should contact the staff of Terravision within 72 hours after travelling with their coach services via e-mail at customerservices(at)terravision.eu and describe all the details about lost items. Terravision is not responsible for lost or stolen luggage, however.
Are Pets Allowed on Board?
Animals are not allowed to be taken on board with all the bus providers in the UK. The only exception are assistance dogs for passengers with disabilities.