UEFA Euro 2016: Travelling to the Parc Olympique Lyonnais in Lyons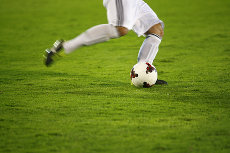 The Parc Olympique Lyonnais in Lyons, which is also nicknamed Stade des Lumières, is the newest UEFA Euro 2016 venue. Its construction was decided upon in 2008 with the project jokingly being called OL Land in reference to its future home team Olympique Lyonnais. The football club left their old venue Stade de Gerland in favour of the new construction.
Work on the stadium started in 2013 and while there were many obstacles to overcome, the stadium finally opened in time for the UEFA Euro 2016. The first game in the Parc Olympique Lyonnais was played in early January 2016 with the stadium's home team facing – and defeating – the French football team Troyes. The Parc Olympique Lyonnais, which also features two hotels and office buildings, is located in Décines-Charpieu, a suburb of the French city of Lyons. It holds 59,186 spectators and was selected to host six matches in the UEFA Euro 2016 – the stadium's first international tournament.
Guide to the Parc Olympique Lyonnais for Disabled Supporters
Of the stadium's 59,186 seats a total of 355 seats are reserved for disabled fans. In addition, these spectators can make use of 102 parking spaces for the disabled. The Parc Olympique Lyonnais also features specific hearing aids and equipment for visually impaired fans. For the Euros, fans in general can choose between four different ticket price ranges, with disabled fans being entitled to the cheapest ticket, which is category 4.
Useful Information about the UEFA Euro 2016 venue Parc Olympique Lyonnais
Address: 10 Avenue Simone Veil, 69150 Décines-Charpieu
Public Transport: Decines Grand Large on Tram line 3
Capacity: 59,186
Opened in: 2016
Current Tenant: Olympique Lyonnais
Cheap Bus Connections to the Stadium Parc Olympique Lyonnais in Lyons

London ↔ Lyons, Eurolines Suisse, from £42

Bristol ↔ Paris, megabus, from £28 / Paris ↔ Lyons, megabus, from £1
➠ Overall Price: £29
Euro 2016 Football Matches Played at the Parc Olympique Lyonnais
| | | | | | | |
| --- | --- | --- | --- | --- | --- | --- |
| 13 June 2016 | 20:00 | Belgium | v | Italy | Group E | 0-2 |
| 16 June 2016 | 17:00 | Ukraine | v | Northern Ireland | Group C | 0-2 |
| 19 June 2016 | 20:00 | Romania | v | Albania | Group A | 0-1 |
| 22 June 2016 | 17:00 | Hungary | v | Portugal | Group F | 3-3 |
| 26 June 2016 | 14:00 | France | v | Ireland | Round of 16 | 2-1 |
| 6 July 2016 | 20:00 | Portugal | v | Wales | Semi-final | 2-0 |