UEFA Euro 2016: Travelling to the Stade Bollaert-Delelis in Lens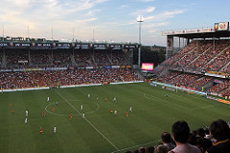 Flickr/Giåm
The
Stade Bollaert-Delelis
was opened in 1933 and originally named after
Félix Bollaert
, the director of Compagnie des Mines de Lens. Later in 2012, those responsible decided to rename the stadium to Stade Bollaert-Delelis in order to also pay tribute to the late
André Delelis
, the former Minister of Commerce. The stadium, which serves as home ground to the football team
RC Lens
, holds
41,229 spectators
, which means that every single citizen of
Lens
could get a seat in the arena.
The stadium consists of four individual stands which are not connected via side stands. This is known as "English Style". During the UEFA Euro 2016 four football matches will be played at the Stade Bollaert-Delelis, which has a long history of international competitions. For instance, the stadium also served as venue during the FIFA World Cup in 1998 and the Rugby World Cup in 2007.
Guide to the Stade Bollaert-Delelis for Disabled Supporters
Disabled fans are generally seated in a ground floor area in the Stade Bollaert-Delelis, which is made up of 218 easily accessible seats. In addition, 44 seats for accompanying persons are provided, which are located on the same floor. When getting to the stadium by car, eight parking spaces for fans with a disability or reduced mobility are reserved, which are located close to the entrance. Tickets for Euro 2016 can be bought in four different categories, with category 4 being the cheapest and 1 being the most expensive one. Irrespective of where they sit, disabled fans are always entitled to a category 4 ticket.
Useful Information about the UEFA Euro 2016 venue Stade Bollaert-Delelis
Address: Avenue Alfred Maës, 62300 Lens
Public Transport: Gare de Lens (Main Railway Station)
Capacity: 41,229
Opened in: 1933
Current Tenant: RC Lens
Cheap Bus Connections to the Stade Bollaert-Delelis in Lens

London ↔ Paris, Eurolines UK, from £10 / Paris ↔ Lens, FlixBus, from £1
➠ Overall Price: £11

Manchester ↔ Paris, megabus, from £34 / Paris ↔ Lens, FlixBus, from £1
➠ Overall Price: £35

Birmingham ↔ Paris, megabus, from £31 / Paris ↔ Lens, FlixBus, from £1
➠ Overall Price: £32
Euro 2016 Football Matches Played at the Stade Bollaert-Delelis
| | | | | | | |
| --- | --- | --- | --- | --- | --- | --- |
| 11 June 2016 | 14:00 | Albania | v | Switzerland | Group A | 0-1 |
| 16 June 2016 | 14:00 | England | v | Wales | Group B | 2-1 |
| 21 June 2016 | 20:00 | Czech Republic | v | Turkey | Group D | 0-2 |
| 25 June 2016 | 20:00 | Croatia | v | Portugal | Round of 16 | 0-1 |