UEFA Euro 2016: Travelling to the Stade de France in Saint-Denis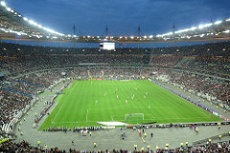 Flickr/PSGMAG.NET
The
Stade de France
in Saint-Denis, north of
Paris
, was built for the 1998 FIFA World Cup and is the
national stadium of France
. The modern, elliptical structure has a capacity of
81,338 seats
, with all of them being covered by the stadium's roof. When the Stade de France was under construction, the Ministry of Sport launched a competition in order to pick the stadium's future name. Finally, the suggestion brought forward by former French footballer
Michel Platini
won over those responsible and the stadium was given its current name.
The very first goal in the stadium was scored by French football legend Zinedine Zidane in a match against Spain. As PSG Paris decided to stay in the Parc de Princes, the stadium has no regular club tenant but only the country's national football and rugby teams. The Stade de France is the only stadium worldwide that has hosted both a football and rugby World Cup final. The last as well as the first game of the UEFA Euro 2016 will be played at the Stade de France with France facing Romania on 10 June 2016.
Guide to the Stade de France for Disabled Supporters
With more than 81,000 seats, the Stade de France in Saint-Denis is the largest football venue in France. It is therefore not surprising that the arena also provides for the largest number of seats reserved for fans with a disability or reduced mobility. All in all, there are 1,000 seats for spectators with a handicap and their accompanying persons, which can be accessed via ramps and elevators. Getting to the Stade de France is not a problem either, since the entire park deck 4 is made up of parking reserved for the handicapped. Fans, who want to see a game during the Euros, can usually pick between 4 different price categories with disabled fans always being entitled to the cheapest ticket, which is a category 4 ticket.
Useful Information about the UEFA Euro 2016 venue Stade de France
Address: Stade de France, 93216 Saint-Denis
Public Transport: La Plaine Stade de France on RER line B, Stade de France Saint Denis on RER line D, Saint-Denis Porte de Paris on Metro line 13
Capacity: 81,338
Opened in: 1998
Current Tenant: French national football team, French national rugby team
Cheap Bus Connections to the Stade de France in Saint-Denis/Paris

London ↔ Paris, Eurolines UK, from £10

Manchester ↔ Paris, megabus, from £34

Liverpool ↔ Paris, megabus, from £28
Euro 2016 Football Matches Played at the Stade de France
| | | | | | | |
| --- | --- | --- | --- | --- | --- | --- |
| 10 June 2016 | 20:00 | France | v | Romania | Group A | 2-1 |
| 13 June 2016 | 17:00 | Republic of Ireland | v | Sweden | Group E | 1-1 |
| 16 June 2016 | 20:00 | Germany | v | Poland | Group C | 0-0 |
| 22 June 2016 | 17:00 | Iceland | v | Austria | Group F | 2-1 |
| 27 June 2016 | 17:00 | Italy | v | Spain | Round of 16 | 2-0 |
| 3 July 2016 | 20:00 | France | v | Iceland | Quarter-final | 5-2 |
| 10 July 2016 | 20:00 | Portugal | v | France | Final | 1-0 |