UEFA Euro 2016: Travelling to the Stade Pierre-Mauroy in Lille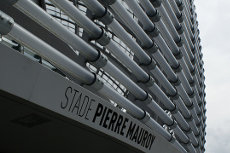 Flickr/DaffyDuke
When the football club
LOSC Lille Métropole
advanced to European competitions in the 1970s, their old stadium could not live up to UEFA standards which is why a new one had to be built. It took decades for the city to find a good construction site, which is why the team had to use interim stadiums including the
Stade the France
in the meantime. In 2012, the new stadium originally called
Grand Stade Lille Métropole
was finally opened. After the former Mayor of
Lille
and Prime Minister of France
Pierre Mauroy
died in 2013, the stadium received its current name.
The Stade Pierre-Mauroy, located in Villeneuve d'Ascq near Lille, is a state-of-the-art football arena: Not only does it feature a retractable roof, but the northern part of the stadium is also built on hydraulic pillars. It is possible to lift half of the playground and to slide it over the other part of the stadium revealing a separate arena, in which music events as well as basketball and tennis matches take place. The electricity needed for the 50,000-seat football and events stadium is generated with the help of windmills and solar panels. In the UEFA Euro 2016, the Stade Pierre-Mauroy will host six games.
Guide to the Stade Pierre-Mauroy for Disabled Supporters
The Stade Pierre-Mauroy provides for 500 seats which are reserved for handicapped fans. All of them are easily accessible via a total of 36 elevators in the stadium and a large amount of access ramps. The seats for disabled fans are next to seats put aside for accompanying persons. The amount of these seats varies depending on the specific conditions of an event. Fans with a handicap or reduced mobility can also make use of 70 disabled parking spaces. The UEFA has decided to sell tickets in four categories for the Euros, with disabled fans always being entitled to a category 4 ticket, which is the cheapest one.
Useful Information about the UEFA Euro 2016 venue Stade Pierre-Mauroy
Address: 261 Boulevard de Tournai, 59650 Villeneuve d'Ascq
Public Transport: Cité Scientifique and 4 Cantons Grand Stade on Metro line 1
Capacity: 50,000
Opened in: 2012
Current Tenant: Lille OSC
Cheap Bus Connections to the Stade Pierre-Mauroy in Lille

London ↔ Lille, OUIBUS, from £14

Edinburgh ↔ London, megabus, from £10 / London ↔ Lille, OUIBUS, from £14
➠ Overall Price: £24

Sheffield ↔ Paris, megabus, from £28 / Paris ↔ Lille, OUIBUS, from £4
➠ Overall Price: £32
Euro 2016 Football Matches Played at the Stade Pierre-Mauroy
| | | | | | | |
| --- | --- | --- | --- | --- | --- | --- |
| 12 June 2016 | 20:00 | Germany | v | Ukraine | Group C | 2-0 |
| 15 June 2016 | 14:00 | Russia | v | Slovakia | Group B | 1-2 |
| 19 June 2016 | 20:00 | Switzerland | v | France | Group A | 0-0 |
| 22 June 2016 | 20:00 | Italy | v | Republic of Ireland | Group E | 0-1 |
| 26 June 2016 | 17:00 | Germany | v | Slovakia | Round of 16 | 3-0 |
| 1 July 2016 | 20:00 | Wales | v | Belgium | Quarter-final | 3-1 |