UEFA Euro 2016: Travelling to the Stade Vélodrome in Marseille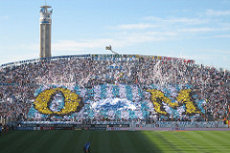 Flickr/fredGLLS
The
Stade Vélodrome
in
Marseille
was opened in 1937 and is currently
France's largest club football ground
. Only one year after the home stadium of Olympique de Marseille was opened, it was already used as a football World Cup venue in 1938, hosting the semi-final played between Italy and Brazil. The name of the stadium goes back to its initial use as a multi-purpose stadium, where football matches as well as
cycling races
were held. After the cycling track was removed in 1985, the stadium was only used for football matches for a while before being chosen as a
rugby venue
. This resulted in the stadium regaining its status as a multi-purpose arena.
In preparation for the UEFA Euro 2016, in which the Stade Vélodrome will be hosting six matches including the semi-final, the stadium's capacity was increased to hold 67,344 spectators. In addition, a roof was finally installed making the Stade Vélodrome officially a UEFA Elite Stadium.
Guide to the Stade Vélodrome for Disabled Supporters
The Stade Vélodrome in Marseille is equipped with 500 seats specifically set aside for disabled fans and their accompanying persons. What is special about the Stade Vélodrome is that those with a handicap are welcomed by volunteers and members of the association for disabled supporters, called Handifan Club OM. When the Euros are on, there are tickets in four different categories available with category 4 being the cheapest one. The UEFA has decided that fans with a disability are always entitled to a category 4 ticket.
Useful Information about the UEFA Euro 2016 venue Stade Vélodrome
Address: 3 Boulevard Michelet, 13008 Marseille
Public Transport: Rond-Point du Prado or Sainte Marguerite Dromel on Metro line 2
Capacity: 67,344
Opened in: 1937
Current Tenant: Olympique de Marseille
Cheap Bus Connections to the Stade Vélodrome im Marseille

London ↔ Marseille, Eurolines UK, from £70

Edinburgh ↔ Paris, megabus, from £31 / Paris ↔ Marseille, megabus, from £1
➠ Overall Price: £32

Bristol ↔ Paris, megabus, from £28 / Paris ↔ Marseille, megabus, from £1
➠ Overall Price: £29
Euro 2016 Football Matches Played at the Stade Vélodrome
11 June 2016
20:00
England
v
Russia
Group B
1-1
15 June 2016
20:00
France
v
Albania
Group A
2-0
18 June 2016
17:00
Iceland
v
Hungary
Group F
1-1
21 June 2016
20:00
Ukraine
v
Poland
Group C
0-1
30 June 2016
20:00
Poland
v
Portugal
Quarter-final
4-6
(pen.)
7 July 2016
20:00
Germany
v
France
Semi-final
0-2