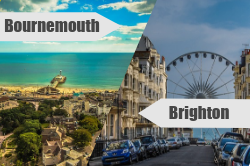 Is there a more quintessential summer holiday than a trip to the beach? While many instantly think of faraway locations, there are some nice beaches along the British coast as well. The UK is known for its charming seaside towns and dramatic coastlines, and there are some beautiful beaches as well. This month's featured connection is between Bournemouth and Brighton, two colourful coastal towns on the south coast with plenty of opportunities to enjoy the sun.
Travelling Between Bournemouth and Brighton
Travelling between Bournemouth and Brighton is very accessible by coach. National Express offers frequent connections between the two seaside cities.

Bournemouth to Brighton with National Express starting from £7.50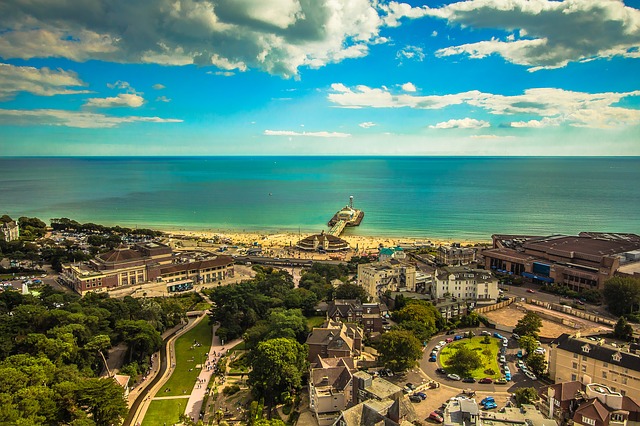 Walk Along the Beach in Bournemouth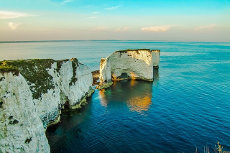 A small town with many literary links, Bournemouth was where J.R.R. Tolkein retired, was once the home of Enid Blyton, where Robert Louis Stenson wrote The Strange Case of Dr. Jekyll and Mr. Hyde, and is the final resting place of Mary Shelley of Frankenstein fame. Given the natural beauty of the area, it's no surprise that so many esteemed writers were drawn to the town. The nearby Jurassic Coast, designated as an UNESCO World Heritage Site offers 185 million years of history and some of the most awe inspiring coastal views around. Sites, like Hengistbury Head Nature Reserve, and the Old Harry Rocks offer magnificent views of the English Channel. With the New Forest, Isles of Wight and Purbeck nearby, there's no shortage of outdoor adventures to be had.
Every summer, the town of Bournemouth brings out its hundred-foot-tall Big Wheel attraction for unrivaled panoramic views of the town. Bournemouth is also home to the country's only coastal activity park, by Boscombe Pier. Here, visitors can try bouldering, learn to surf or go kayaking along the coast. Long gardens in the town centre, are not only beautifully landscaped, but also have tennis courts, a children's play area and quick access to the beach. And of course, Bournemouth's famous beach is seven miles of golden sand and is the town's pride and joy during the summer months.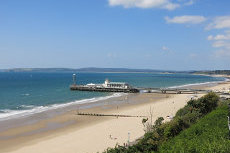 Even on rainy days, Bournemouth has plenty to do and see. The International Centre has hosted major talents such as Katy Perry, One Direction and Lady Gaga, and the nearby Pavillion also has live entertainment all year long. The Russell-Cotes Museum & Art Gallery, set atop the Bournemouth cliffs, is a masterpiece in its own right, housed in a stately Victorian mansion. The Aviation Museum and Westover Gallery are also well worth a visit, and St. Peter's Church, which is the final resting place of Mary Shelley and the heart of her husband, Percy Bysshe Shelley, is an important landmark in the town. You can also see an impressive array of aquatic life, from baby crocodiles to penguins at the seaside Oceanarium.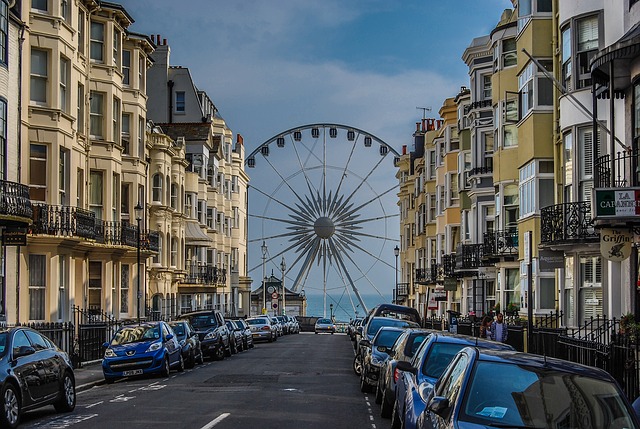 A Seaside Holiday in Brighton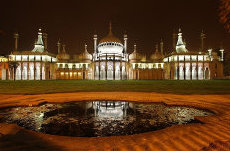 Known for its artsy, diverse and alternative atmosphere, Brighton is a fantastic weekend destination during the summer. The city's most noteworthy landmark, the Royal Pavilion, is famed for its eye-catching Indian architecture that makes it stand out. The structure was built for King George IV while he was Prince Regent. Perhaps, when walking through the city's streets and upon noticing some of the brightly coloured houses or pier, you'll notice it seems familiar. Brighton is known for its film scene, being the setting for quite a few films, and is also home to one of the UK's oldest cinemas, the Duke of York's, which opened in 1910.
Flanked by the English Channel and the South Downs National Park, Brighton also has no shortage of magnificent views and natural beauty. A short bus ride, will take you to Castle Hill, home to rare orchids, a rainbow of butterflies and chalk grassland. Sports lovers will be right at home in the Brighton Marina, which is a popular destination for water sports, and is a great place to rent a kayak. Spectators can soak up the sun, and notice the boats entering the harbour. At night, you can enjoy a free movie on the beach as there's an outdoor cinema set up in June and July.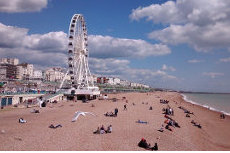 The North Laine is a perfect place to go shopping, with one of the largest selection of retailers in the south coast. It's fondly known by locals as "the place where you can find anything." The Brighton Marina also offers a plethora of dining options, from Italian bistros to French restaurants and of course, classic fish and chip shops. Brighton is also home to some unique museums, like the Booth Museums, which is home to a collection of dinosaur bones, birds and butterflies from naturalist Edward Thomas Booth. The Toy and Model Museum, under the town's train station, has a large array of rare toys from toy buses to Steiff stuffed animals and several play sets. Go from toy train sets to the real thing, by visiting the Bluebell Railway, which is an important piece of England's locomotive history for being the first preserved steam passenger railway in the world that operates a public service. Visitors can travel on the fully functional railway between Sheffield Park and East Grinstead.
Share this post: