Taking the coach is one of the most affordable and eco-friendly ways of travelling but it can also be fairly time-consuming. If you're an experienced traveller, then this won't bother you too much but if you're travelling with children, it's a different scenario. This is why we came up with some pieces of advice that will make you survive coach travel with children.
On the coach with children
Before you plan your next journey, you should be aware that each provider has different conditions when it comes to travelling with kids, for example with regards to discounts. This is also true when it comes to unaccompanied children, so make sure to check the minimum age if you want to book a trip for your kid.
First things first: Booking a child's ticket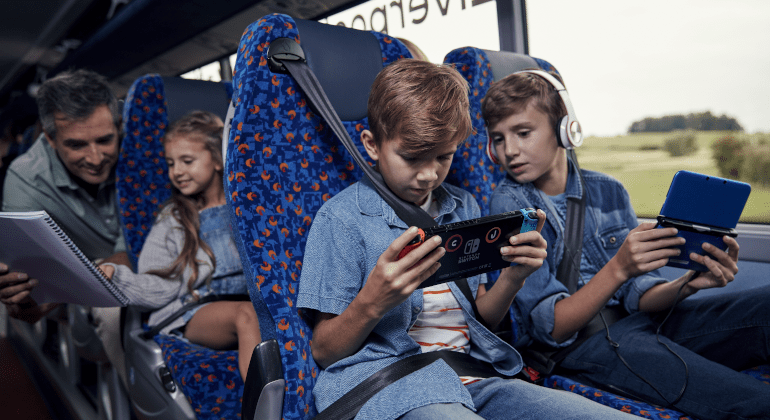 When booking a ticket, most providers allow you to choose whether you want to get a normal ticket or a child's ticket, so make sure to tick the right box. If you're travelling with a toddler, then it's a bit more complicated: Both National Express and megabus offer free travel for children under the age of three when accompanied by a full paying adult. When you book your trip with National Express, you need to get a free child's ticket, which you can easily add to your basket. megabus, on the other hand, only offers free travel for children under 3 if they don't occupy a seat, which is why you don't have to get an extra ticket. If you want your kid to have a seat of his or her own, you will have to book a full price ticket with megabus.
Discounts for children
As mentioned before, kids under the age of 3 travel for free with megabus and National Express. On FlixBus services, discounted rates for children are available but they depend on which route is travelled and in which country. If you're a frequent traveller and you have your kids with you a lot, then you should look into purchasing the National Express Family Coach Card. You can get the Family1Plus1 discount card for £8 a year. This allows you to take one kid for free every time you travel. If you have two kids, then go for the Family2Plus2 Coach Card for £16. Then, you can take two kids with you for free.
An overview over the coach companies' discounts for children
| | | |
| --- | --- | --- |
| Coach Company | Free Travel | Discounts |
| National Express | Kids under 3 travel for free (ticket needs to be booked) | Family Coach Card: pay £8 and take a kid with you for free on every journey for one year |
| FlixBus | – | Discounts for children under 15 |
| megabus | Kids under 3 travel for free (when they don't occupy a seat) | – |
➠ Don't forget to bring some form of proof of age when you travel with your kids!
On the road with kids
Did you know that you can book a coach ticket from Glasgow to London for just £1? With that in mind, it's not surprising that many families opt for intercity buses for cheap getaways. With a comparatively long journey ahead, preparation is everything! Make sure to provide for entertainment so that your kids don't get bored. This can range from travel games to books over handheld consoles.
Some providers also offer free WiFi, which is always a good way to kill some time. National Express went the extra mile and recently launched an infotainment system called VUER. But be prepared that there will not be WiFi everywhere. When the bus is on the motorway, you might not get a signal. This is because the bus WiFi is basically a form of mobile internet. In order to avoid stress in times of a bad signal, we recommend preparing your tablet or phone and to download films, tv shows or podcasts in advance. Many providers such as Amazon Prime Video and Netflix have an offline mode. This allows you to save their content on your mobile device.
➠ In the mood for an affordable family vacation now? Check out our Budget Travel Guide!
Coach travel for unaccompanied kids
If your child is already a bit older and feels independent enough to travel by coach on their own, then that's usually ok. However, there's different conditions when it comes to unaccompanied kids on a long-distance coach: National Express and megabus allow a teenager over the age of 14 to travel alone. FlixBus, on the other hand, only allows children over 10 to travel unaccompanied. What you need in any case is a signed letter of consent in which you state that you approve of your kid travelling without an adult.
An overview over the coach companies' discounts for children
National Express: 14 years
megabus: 14 years
FlixBus: 15 years
If you remember all of these hints, your next coach trip with kids will basically be a piece of cake!
Share this post: