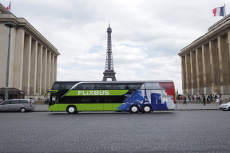 As a result of the passage of the so-called Macron Law, the French intercity coach market is booming. While prior to the liberalisation of the market for long distance bus travel, only cross-border routes were allowed to be operated, national bus routes may also be provided as of now. As transport companies in France prepare for the newly created economic opportunities, they can take advantage of the experiences gathered in neighbouring countries: In Germany, for instance, the intercity bus market was deregulated in early 2012 and has since then registered a massive increase in popularity and ridership. Since this development has resulted in severe profit setbacks for the German railway company Deutsche Bahn, its French equivalent SNCF saw itself constrained to react quickly: The train provider's own bus brand iDBUS, which was allowed to provide a few national bus routes even before the liberalisation, was rebranded last week in order to appeal to the new kind of target group, which mainly consists of students and younger passengers. The coach company now operates under the name OUIBUS and currently offers 25,000 extra cheap tickets to travel throughout France for about £3.50 per trip.
Apart from the French transport companies themselves, many international coach providers are also showing a strong interest in the French market. Among those is the British intercity bus company megabus. Since 2012, megabus has already been providing bus transport from London to Paris. The link between the two capitals is a cheap alternative to the Eurostar. Whereas a ticket for the train is usually quite pricey, a megabus ticket for this connection can be booked for £10. Sometimes even £1-tickets are available. The liberalisation of France's intercity bus market means that UK travellers can not only get to France in an inexpensive way, but can also discover the whole country for little money. megabus has already launched connections within France, which link Mulhouse, Avignon, Perpignan, Lyon and Montpellier. Many more direct connections are soon to be integrated into the company's network.
Another contender for the French market is the German coach operator FlixBusFlixBus. The market leader in its home country has already held out the prospect of a European-wide network of cheap bus connections and has been pursuing this objective by launching an independent subsidiary in Italy. Other countries are likely to follow. FlixBus has also already become active in France: The coach company has formed alliances with other bus providers and has launched several national connections, such as Paris-Reims-Metz or several bus routes leading to Toulouse. It seems to be a head-to-head race for the French market with many international competitors. Whoever wins the race, the customer will ultimately benefit from the competition as it creates attractive new bus routes, cheap prices and many special offers.
Share this post: