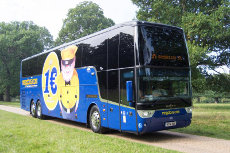 The Perth based coach company megabus is known for cheap fares starting from just £1. Thanks to the recent network expansion, even more travellers across England and Wales can now benefit from the inexpensive travel options. A cooperation with the Bristol based company South Gloucestershire Bus and Coach Company Ltd allows megabus to launch five new routes and to integrate eight new cities and two airports into their timetables.
new megabus routes
M6a Barnstaple – Tiverton – Taunton- Bridgwater – Bristol – Heathrow Airport – London

M38 Barnstaple – Tiverton – Taunton – Bridgwater – Bristol – Gloucester – Birmingham – Leicester – Loughborough University – Nottingham Trent University – Nottingham City Centre

M25 Cardiff – Bristol – Heathrow Airport – Gatwick Airport

M18 Bath – Corsham – Chippenham – Heathrow Airport – London Victoria

M14 Gloucester – Cheltenham – Cirencester – Swindon – Heathrow Airport – London
From 1 May, the blue and yellow megabus vehicles equipped with power sockets and free WiFi will also serve stops in Chippenham, Bath, Barnstaple, Tiverton, Taunton, Bridgwater, Leicester and Corsham. Another new addition to the timetable are bus stops at Loughborough University, Nottingham University and the University of Bath. The company's Managing Director Edward Hodgson explains that stopping right on campus is vital to the megabus philosophy as it allows students on a budget to explore the UK for little money: "Our aim is to provide new affordable transport options for people who previously may not have been able to afford to make these journeys, and by doing so we are delivering a boost to tourism and local communities. We look forward to continuing to welcoming more customers on board."
megabus airport shuttle: Travel to Gatwick and Heathrow by bus
Particularly exciting are the new direct connections to the airports Heathrow and Gatwick. It is the first time that megabus stops at the London airports thus offering travellers inexpensive shuttle services from numerous towns including Barnstaple and Swindon. Tickets for trips from Barnstaple to Heathrow, for example, normally start from £15 but since megabus is known for its sales and offers, travellers should keep their eyes open and always check for current bus and coach deals before booking a trip.
If you plan on trying out one of the new megabus routes between 1 and 7 May, then you're in luck: Every ticket will only be £1* – including the airport shuttles!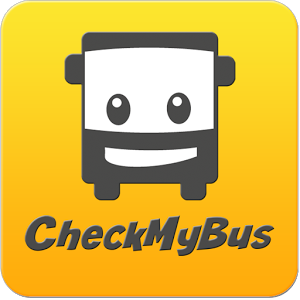 Did you know that you can also use CheckMyBus to look for cheap flights? We just checked and for early May there's direct flights from London to Barcelona for only £25. If you add a £1-megabus ticket to get you to Gatwick, you can basically travel from your doorstep all the way to sunny Barcelona for £26!
*subject to availability and including a 50p booking fee
Share this post: