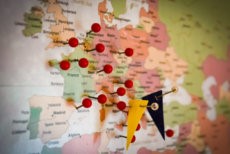 Four of the European giants of bus transport have decided to join forces to face competition in the international market. As the UK market leader, with over 20 million passengers each year, it's only natural that National Express would eventually form a partnership with the leading provider in France, Ouibus, which carries roughly 50% of the country's market. ALSA, the leading bus company in both Spain and Morocco has already partnered with Ouibus and together with the Italian Company, Marino Autolinee, the network will cover a total of 300 destinations in a dozen European countries.
National Express Stays Connected to Euope
The first of these strategic alliances was launched last November, between ALSA and OUIBUS. The integration of National Express and Marino Bus has already been closed at the end of this past January. The main objective of the alliance is the expansion to different markets, minimising investment and without entering an excess supply. International travel will thus be more accessible and cheaper for passengers as a result, which will be referenced by the local company in each of the countries.
This new coach network, based on a similar alliance to those we can find in air transport, such as Lufthansa and the star alliance with SWISS International, Austrian Airlines, Brussels Airlines and Eurowings as well as the company's various codeshare passengers, which enables airlines all over the world to maximise their flight capacities. This will allow all of the companies the option to offer tickets from the other providers through their own channel. It is estimated that together, Ouibus, ALSA, National Express and Marino Bus offer around 12, 000 bus routes.
The partnership is a logical step given National Express's commitment to continue providing passengers access to continental Europe from the UK after its withdrawal from Eurolines. Passengers can still book trips via National Express to Paris, Amsterdam, Brussels, Berlin and tons of other major European cities.
In response to the partnership, the National Express Coach Managing Director, Chris Hardy, is optimistic, saying "This partnership strengthens our hand in Europe and means customers will have access to great value connected coach travel across a fantastic range of destinations in the UK and Europe."
Share this post: