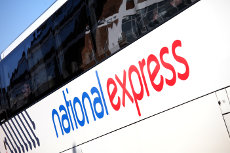 While most British travellers are used to the fact that train networks shut down for Christmas Day, international tourists or people new to the UK might be surprised to find out that their usual train is not running on 25 December. This can be particularly problematic when it comes to airport transfer services, for example at Stansted Airport. Whereas passengers can usually rely on Stansted Express train services or pick one of many bus operators to take them to Central London, shuttle services are harder to find on Christmas Day. Thanks to National Express, however, taking an expensive cab can be avoided in some cases.
For the last two years National Express has been operating bus services on Christmas Day, but 2015 marks the first year in which airport transfer to and from Stansted, the UK's fastest growing airport, is included on its Christmas timetable as well. Furthermore, the bus route will also be connected to Norwich, from where buses will depart three times at 8.30, 12.30 and 17.00. The buses on the National Express airport route will call at Thetford, Newmarket, Cambridge, London Stansted Airport, London Stratford and London Victoria. From Victoria Coach Station the coaches will depart at 8.30, 13.30 and 18.30. Tickets for Christmas Day journeys from Stansted to central London can be booked starting at £20.
For Boxing Day the coach company provides almost full service with a total of 72 departures from Victoria Coach Station to Stansted. Airport services starting in other cities including Ipswich, Birmingham and Oxford will be picked up again as well so that travellers will be covered for their Christmas holidays. Tom Stables, coach managing director at National Express UK, considers the Christmas Day airport transfer a milestone for the company: "We are pleased to add Stansted Airport to our unrivalled network of Christmas Day services." Officials at Stansted Airport expect roughly about 3,000 passengers at Stansted for Christmas Day.
Share this post: