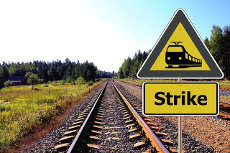 Monday, 8 August 2016, marked the beginning of a 5-day-walkout staged by Southern Railway staff. The train company, which runs services from Sussex and Surrey to London, Kent, Buckinghamshire and Hampshire, has been the target of rail strikes for several months now with the dispute focusing on a revised role for conductors. Southern Railway is planning to have doors opened and closed by drivers rather than conductors. The RMT union, however, claims that this does not only threaten hundreds of jobs but that the change is also likely to affect the passengers' safety in a negative way. The latest walkout will be met by the company itself with an emergency timetable. Southern claims that about 60 per cent of services will be running but warns commuters of crowded trains and stations.
Read more about past strikes and find out what Southern Railway passengers affected by the industrial action need to know now: Rail Strike Alert in the UK
Southern Railway Strike: Coaches Might be a Good Alternative
Bus companies such as National Express were quick to react to the strike and added more seats on affected lines. Commuters, who want to avoid crowded trains and potential delays or cancellations, can take a coach from Brighton to London, for instance. Prices for this connections start from £8. The National Express route 315 might also be worth taking a look at for travellers in times of Southern Railway strikes. The route connects Brighton with many surrounding towns such as Hove, Chichester and Portsmouth.
Unsatisfactory Services Fuels Discussion about Renationalisation of Railways
Over the last few months, Southern Railway has not only made headlines due to workers' walkouts but also due to many customers complaining about unsatisfactory service. Even when no strike is only, the company sometimes relies on an emergency timetable which is brought about by an increase in staff sickness. According to the company's chief executive, an average of 39 conductors currently phone in sick per day. Even prior to this, the company was already regarded as fairly unreliable. For instance, in 2014 not a single train from Brighton to London Victoria arrived on time.
I condemn RMT's reckless #Southernstrike – it isn't about safety: driver only operation has worked safely across rail network for 30+ yrs

— Crispin Blunt MP (@crispinbluntmp) 8. August 2016
Men & women on the #Southernstrike deserve our support. It's a strike for safety for staff and passengers.

— Frances O'Grady (@FrancesOGrady) 8. August 2016
The bad news is Southern Rail are only operating 60% of trains today. The good news is that's 10% more than usual. #southernstrike

— Chuck Thomas (@chuckthomasuk) 8. August 2016
#Doorgate #southernstrike What if we take all the doors off and employ more people to stand in front of them to stop passengers falling out?

— ♕Lord Elpus GBE JCB (@HouseofErmine) 9. August 2016
Until the last minute, commuters were hoping that the strike could be averted. In a separate but similar dispute, workers of the train company Scotrail got an offer, which guaranteed a conductor on every train. RMT, however, declined all of Southern's and Govia Thameslink's offers and has ultimately not called off the strike. "This action has been forced on us by the arrogance and inaction of Govia Thameslink and the Government, who have made it clear that they have no interest in resolving this dispute or in tackling the daily chaos on Southern", claims Mick Cash, the RMT's general secretary.
Unsatisfactory services and ongoing disputes between train companies and staff have fueled the discussion about the potential renationalisation of the railway. According to a Sky News poll 55 per cent of the pollees actually support this, while only 20 per cent are opposed to the idea and wish for railway services to remain in private hands.
Share this post: